Lithuania, officially the Republic of Lithuania, is a country in northeastern Europe, the southernmost and largest of the 3 Baltic states. Lithuania is a country that is creating its new identity after regaining its independence.
Attractions Transportation Where to stay Travel Tips
There are many reasons to visit Lithuania at least once in a lifetime. Lithuania is certainly not the first place that comes to mind when talking about tourist destinations that must be visited, but the country is full of surprising things for all travelers, thanks to the culture and nature. Lithuania attracts tourists with its historic capital, health spas and a lively coastline in summer.
General information about Lithuania
Area and borders
Lithuania covers an area of 65,300 square kilometers, is located on the shores of the Baltic Sea, and is named as one of the Baltic countries together with Latvia and Estonia.
Lithuania is bordered by the Baltic Sea in the west, Latvia in the north, Belarus in the southeast, Poland and Russia (Kaliningrad) in the southwest.
Population
The country has a population of nearly 3 million, including 63% Lithuanians, 16% Poles and 12% Russians.
Religion
The religion of the majority in Lithuania is Roman Catholic with 80% of the population. Other ethnic groups have brought their religion with them, such as the Russians with Eastern Orthodoxy and the Tatars with Islam. The large and famous Lithuanian Jewish community was almost entirely exterminated by the Nazis.
Currency
The previous Lithuanian currency was the Litas (LTL), but from 1 January 2015 it was replaced by Euro. The use of credit cards is already widespread, even in small shops.
Visas
Lithuania is part of the European Union and the Schengen area since 2004, so for entering the country you need to show valid passport and Schengen Visa, which allows you to stay in the Schengen area for a maximum of 90 days within a 180-day period. You will need to check your visa requirements at the nearest embassy of the destination country yourself.
For EU / EEA citizens, no visa is required before traveling to Lithuania. You just need a valid passport or chip ID card as a travel document in Lithuania. If the stay is longer than 90 days, you will need to request a residence certificate from the Lithuanian Migration Service.
Language
The official language is Lithuanian. However, among the languages spoken are Russian, Polish, English and, especially in the coastal area, German.
Here are some essential expressions to remember:
Hello: Labas
Good evening: Labas vakaras
Goodbye: Iki
Thank you: Ačiū
Yes: Taip
No: Ne
Weather in Lithuania
Lithuania has a temperate continental climate. The best months to visit Lithuania is summer, when the temperatures are quite mild and the long days allow you to appreciate the landscapes and cities of the country. Short warm summers have an average temperature of around 20-22 degrees Celsius. Early autumn during September and early October could be an excellent option for visiting Lithuania and the Baltic States. It usually rains throughout the year but more intensively in August.
Winter days are usually extremely cold. January is the coldest month of the year with an average of -10 degrees Celsius, and temperatures can even be below -25 degrees Celsius. Many people think that the least attractive time of year to visit Lithuania is winter with very few hours of light. Despite this, the winter period in Lithuania can still give a wonderful experience, especially during the Christmas holidays.
Tourist Attractions in Lithuania
Although it is a small country, Lithuania has a long list of must-see attractions. The country has approximately 200 parks, 50 natural reserves and 2500 lakes. Every park of the country is perfect for relaxation, where you can relax under centuries old trees, enjoy crystal clear water in the lake, or walk in a beautiful garden. Explore the baroque churches in Vilnius, stroll through the historic center of Kaunas, visit the fairytale castle of Trakai or enjoy the fantastic beer of Lithuania.
---
If you time in Lithuania is limited, you can join Vilnius, Trakai and Kernave Full-Day Tour. This private tour gives you an opportunity to see 3 towns for the history of Lithuania in just one day. You will explore Kernave with its UNESCO-protected hill-forts, Trakai with its wonderful Island castle and Vilnius with its Old Town.
---
Vilnius, the capital
The best way to start exploring Lithuania is by visiting the capital city Vilnius. The city has a magnificent atmosphere with impressive catholic churches, old city center with historical buildings and art galleries. Vilnius old town is one of the largest in Europe and is included in UNESCO's World Heritage list.
The top attractions in Vilnius to visit:
Vilnius Cathedral
Gediminas Tower
St. Anne's Church
St. Francis and St. Bernard Church
Vilnius University
KGB museum
Check out this full list of Top Attractions in Vilnius with numerous historical landmarks to keep you busy during your visit.
Trakai Castle
Trakai Castle, which is located approximately 30 kilometers from Vilnius in the town of Trakai, is one of the most popular destinations for an excursion from Vilnius. Trakai Castle is an impressive castle on the island of Lake Galve. It is the former capital of the country during the times of Grand Duchy of Lithuania. This castle was built in the 13th century, but rebuilt in the 20th century. The castle serves as an important introduction to the history of Lithuania and medieval Lithuania.
Kaunas
Kaunas is the city, located approximately 100 kilometers west of Vilnius on the banks of the Nemunas River. Kaunas is the second largest city in Lithuania, where you can find a charming downtown and magnificent complex of Gothic and Renaissance style buildings as well as shopping opportunities.
Klaipeda
Klaipeda is the third largest city in Lithuania and by far the largest coastal city, located 300 kilometers from Vilnius. The charming port city of Klaipeda is the gateway to the unique Curonian Spit, a UNESCO World Heritage Site. This port city has its charm, mixing German and Scandinavian style. It is known for its Sea Festival, which takes place on the last weekend of July.
Hill of Crosses
The famous Hill of Crosses is an important pilgrimage site located about 12 km north of the city Siauliai in northern Lithuania. There are more than 100,000 crosses and other religious icons covering the hill. This impressive religious attraction has even been visited by Pope John Paul II.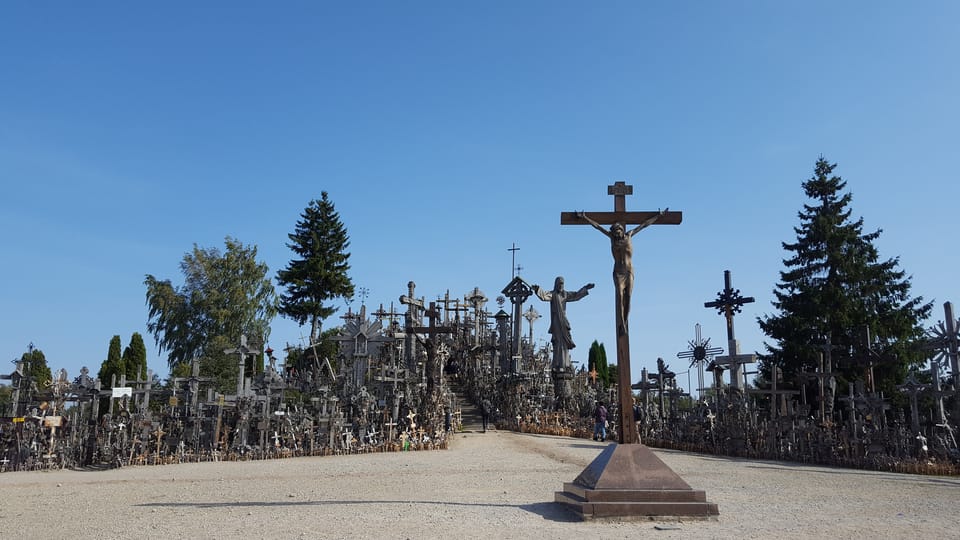 We've rounded up the best tourist destinations in Lithuania that everyone should have on their bucket list.
Transportation in Lithuania
Find out the best ways of traveling to Lithuania, around the country and its capital city Vilnius.
How to get to Lithuania
By plane
Lithuania is easily accessible by plane. There are 3 international airports in Lithuania: Vilnius, Kaunas and Palanga / Klaipeda, the latter mainly with regional flights. Most travelers will arrive at Vilnius International Airport (VNO). This is the largest airport in Lithuania, which connects the country with most major European cities such as Riga, Rome, Paris, Vienna, Milan, Warsaw, Bremen, Madrid, Oslo and others. The airport is also very close to the city center with about 6 kilometers away and is well connected by public transport.
By Bus
Vilnius bus station is located on 22 Sodu Street, near the train station, about 10 minutes' walk from the city center. The station is used by many international bus companies. From Vilnius Bus Station, you can reach the Old Town square in a 10-minute walk or you can take one of numerous buses and trolleybuses to Vilnius city center.
By Train
Lithuania has direct connections by train to Belarus, Latvia, Poland, Russia. Vilnius train station is located on 16 Gelezinkelio Street, near the bus station. From Vilnius Train Station, you can reach the Old Town square in a 10-minute walk or you can take of numerous buses and trolleybuses to Vilnius city center.
By Ferry
The most important Lithuanian port is Klaipeda, where ferry services from Scandinavia and Germany arrive. The distance from Klaipeda to Vilnius is about 310 kilometers and cities are connected with the A1 highway.
By Car
Lithuania is covered by a well-maintained road network. The country is also crossed by Via Baltica, a highway leading from Tallinn to Poland. The route passes through Kaunas, the second largest city in Lithuania. For those coming from neighboring countries such as Poland, Belarus, Estonia and Latvia, arriving by car is recommended. The road conditions are good. The speed limits are 50 km/h in cities, 90 km/h on roads and 110 km/h on the motorway. Using a mobile phone while driving is only permitted with a handsfree. Maximum attention is recommended, especially when traveling by car in winter.
How to get from the airport to the center of Vilnius
By Bus
The following bus lines are available for reaching the center of the Lithuanian capital from Vilnius Airport:
No. 1 and No. 2 - to the train station
No. 3G - through the city center to Fabijoniskes
No. 88 – to the downtown, passing the old town
No. 88N – night bus to the downtown
Bus tickets can be purchased on board the bus or on public transportation app. This journey from the airport to Vilnius center takes about 20 minutes.
By Train
From the airport, you can get to the center by train. A ticket costs just 0.80 EUR and you can reach the central train station in 8 minutes.
By Taxi
There are also many taxis ready to take you from the airport to the city. It can cost about 10-20 EUR, depending on where you are going. You can also book Uber or Bolt for getting into the city.
How to get around Lithuania
Lithuania is the country with a developed transportation system, so you can be sure that you will not have any difficulties in terms of transportation. Transportation within the country is very comfortable with both private vehicles and public transportation. Public transport in Lithuania is affordable both within and between cities. Buses are a safe option and are a convenient means of transport for both short and long-distance trip. The train is also a quick alternative for moving between cities.
How to get around Vilnius
Public transport in Vilnius is provided by trolleybuses and buses. You need to buy a ticket to get these services that are usually available between 5:00-24:00, with one night bus connecting the airport with the city overnight. You can buy tickets electronically or from the driver. When bought onboard the bus, the ticket costs 1 EUR.
You can also buy a Vilnius City Card or download an application for getting electronic tickets that can help to save you time and money as these tickets cost less than the ones bought from the driver.
Taxi in Vilnius is another popular means of transportation in the city, useful for getting around in comfort. You can also think of using Uber and Bolt that are both operating in the city.
It is possible to go around the city by bicycle during the warm season. Vilnius has a Cyclocity automatic bicycle rental system. You can rent bicycles with your Cyclocity Card or Vilnius City Card at the bicycle stops available all over the city.
Accommodation in Lithuania
Lithuania has been a travel destination for centuries, so there is a variety of accommodation options. The best situation with accommodation is in the capital Vilnius. With many hotel options, it is possible to find hotels for every budget. If you value exceptional comfort, you can book a room in the luxurious five-star hotel. But even with a high travel budget, you can sleep well in an inexpensive hotel or apartment. There are still campsites for the adventurous and hostels for budget travelers. If you are going to be here during your summer vacation, you can choose to stay in the seaside cities.
Find out where to stay in Vilnius with our Vilnius Area Guide as the most important thing to consider when deciding where to stay is how you get from there to the main things you want to see.
Some of the best rated accommodations in Vilnius, Lithuania:
The Joseph | Signature Hotel Vilnius
Our pick of the capital's best places to stay can be found here: Top Hotels to stay in Vilnius
Lithuanian Cuisine
As in every country, we recommend you to try local tastes and taste interesting dishes in Lithuania. Food can be both cheap and delicious in Lithuania. Lithuanian cuisine consists of certain ingredients like barley, potatoes, rye, beets, strawberries and mushrooms. You can definitely come across the potato in almost every dish. Fish dishes are very popular in the coastal region. Herring in Lithuania is prepared with a special recipe prepared with sour cream and fried onions. Lithuanian cuisine is similar to Scandinavian cuisine as it shares climate and agricultural practices with Northern Europe. However, dairy products are traditionally an important part of Lithuanian cuisine. One of the oldest and most basic Lithuanian food products is rye bread (rugine duona). It can be stored for a very long time without losing its quality.
The Potato-Meat Dumplings (Cepelinai) is one of the most famous dishes of Lithuanian cuisine. Potatoes are boiled stuffed with meat and served with bacon gravy sauce and sour cream.
Kibinai are popular traditional pastries of Karaite ethnic minority in Lithuania. The local restaurant in Trakai is serving the best authentic Kibinai.
In summer, we recommend trying the famous Lithuanian Cold Beet Soup (Saltibarsciai).
For dessert, you can try the Tree Cake (Šakotis) or soft fried dough pastries (Žagarėliai). These traditional desserts are not served frequently in restaurants, but you can purchase them at markets.
For drinks, one of the most popular soft drinks in Lithuania are kvass. The 999 and Stakliškės brands are known for alcoholic beverages you should try when you go to Lithuania. You can also give a chance to the region-specific beer brand called Vilniaus.
Best places to eat in Lithuania
Etno Dvaras: The Lithuanian restaurant with typical Lithuanian dishes highly recommended by the locals.
Šnekutis: This place is a pub with wooden tables, benches and simple furniture. You need to order at the bar counter and a waiter will bring your orders to the table. They offer low prices and there are many typical Lithuanian dishes on the menu.
Čili pica: Cheap pizzeria and restaurant, with practical and colorful furnishings. It offers typical Lithuanian dishes and pizzas with various combinations.
Užupio kavinė: The restaurant with a terrace on the bank of the river in Uzupis. Prices are not low, but the beautiful view, atmosphere and Lithuanian dishes are good.
Senoji Kibininė: Nice restaurant in Trakai, serving typical dishes of the Karaim and Lithuanian cuisine.
Pinavija Cafe & Bakery: One of Lithuania's small but pleasant rare cafes with friendly atmosphere. The cafe serves only lunch and breakfast with nice desserts and drinks.
Senoji trobelė: A small, cozy restaurant, which serves mostly traditional Lithuanian dishes.
Shopping in Lithuania
Lithuania is a pleasant country for shopping and has its own local items. Lithuanians are proud of their ancient craft traditions and popular souvenirs include items made of linen, woolen clothes, gloves and scarves as a way for locals to deal with the winter. Also, Lithuania's amber shops are very popular all over Europe.
Although there are many shopping malls in Lithuania, Vilnius is still known as the country's shopping paradise. The Pilies Street, Didžioji Street and Gediminas Prospektas are the main shopping streets in Vilnius with many souvenir shops and markets. If you want to shop for more global brands in shopping malls, you can go to Akropolis and Panorama. Gariūnai, the largest open-air market in the Baltics, in the west part of Vilnius promises an absolutely different experience.
Kaunas is also a city of shopping malls. The main shopping centers in Kaunas are Akropolis, Mega, Molas, Savas, and HyperMaxima.
Festivals in Lithuania
Fairs and festive events take place in Lithuania regularly. Vilnius Christmas Market and Kaziuko Fair are two examples of major events that attract visitors from all over the world to the Lithuanian capital.
Trakai Medieval Festival
If you want to join a more local and historical festival, our suggestion would be Trakai Medieval Festival in June. This festival is organized in Trakai Island Castle with traditional crafts, people in period costumes and a number of games. Naturally, medieval music and dancing is also a part of the festival.
Street Musicians Day
It is a street music festival with the idea of having more musicians playing on the streets. The festival is organized on a selected Saturday of May since 2007.
Uzupis Independence Day
Every year, on April 1, it is celebrated as an Independence Day for the independent Uzupis District in Vilnius. This small neighborhood, which has its own constitution and even an army, is not an officially independent state, but it is the area built by artists and attracting a lot of tourists.
Capital Days
This is a multi-art event filled with music, good food, culture and a great atmosphere. The traditional and modern Lithuanian music is performed in different parts of the city. Both locals and foreign tourists flock to the city during this period.
Kaziuko Fair
This is a traditional market fair in Vilnius that has been going on for centuries. It is the place where local crafts are exhibited and offered for sale.
Where to after Lithuania?
On the classical Baltic route, the most popular destinations to go after Vilnius in Lithuania are Riga in Latvia and then Tallinn in Estonia. You witness the cultural transitions between them.
Lithuania Travel Tips